Date: March 12, 2020
Miles: 431.9 – 438.4
Today did not go as planned.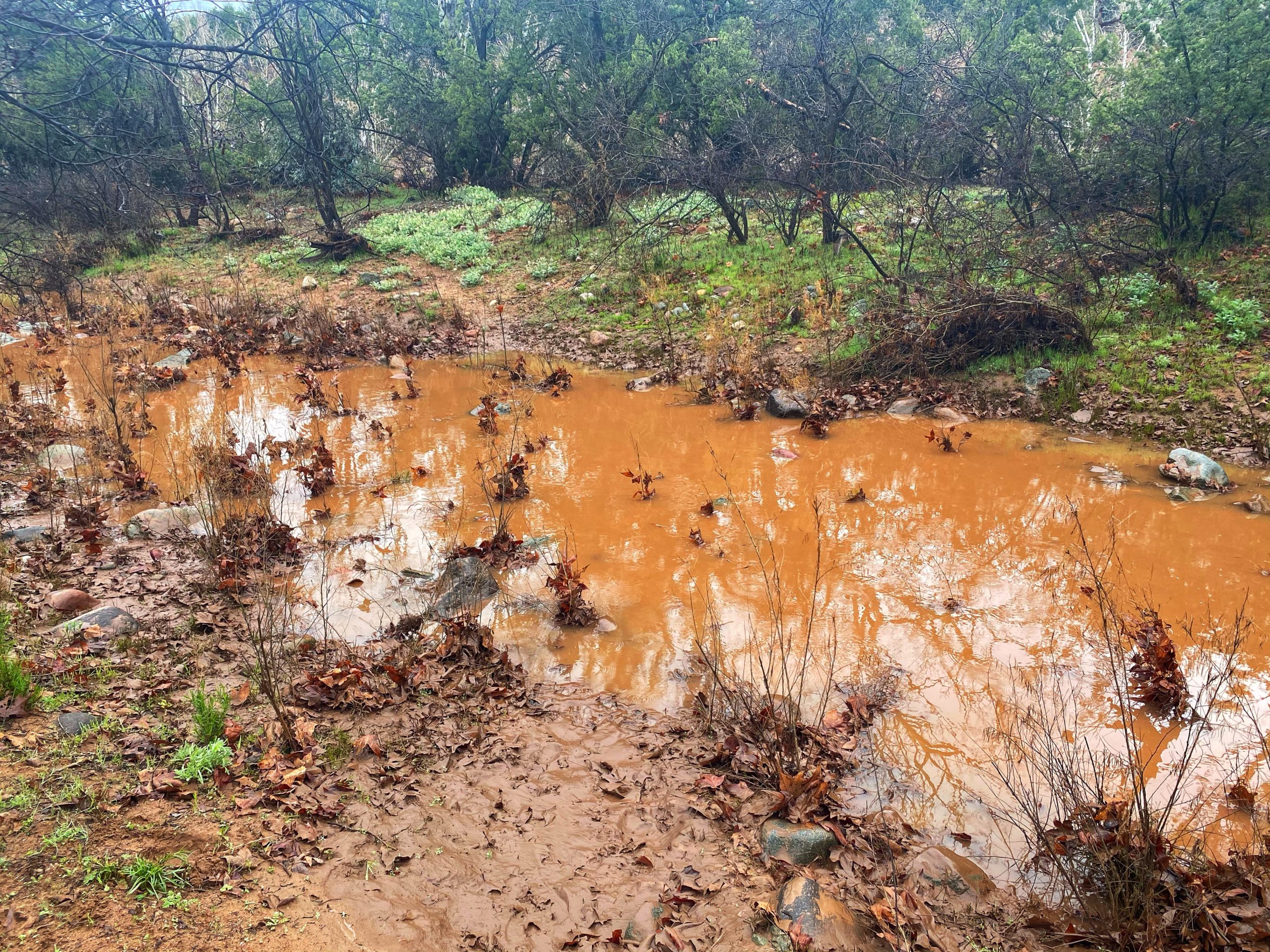 A brilliant flash of light followed immediately by a jarring roll of thunder bolted me wide awake at about midnight last night. I waited for the next round to see if it would be hanging around for a while, and as the lightning lit up my tent a few more times, it took longer and longer for the thunder to roll and soon it was over.
After my heart settled back into resting mode, I went back to sleep for a few more hours and woke up early so I could make a 28 mile push into Pine. I got really excited about the thought of dry clothes and a hot meal and that motivated my brain to pick up the pace though a growing pain in my right shin and a couple banged up toes slowed my roll a bit.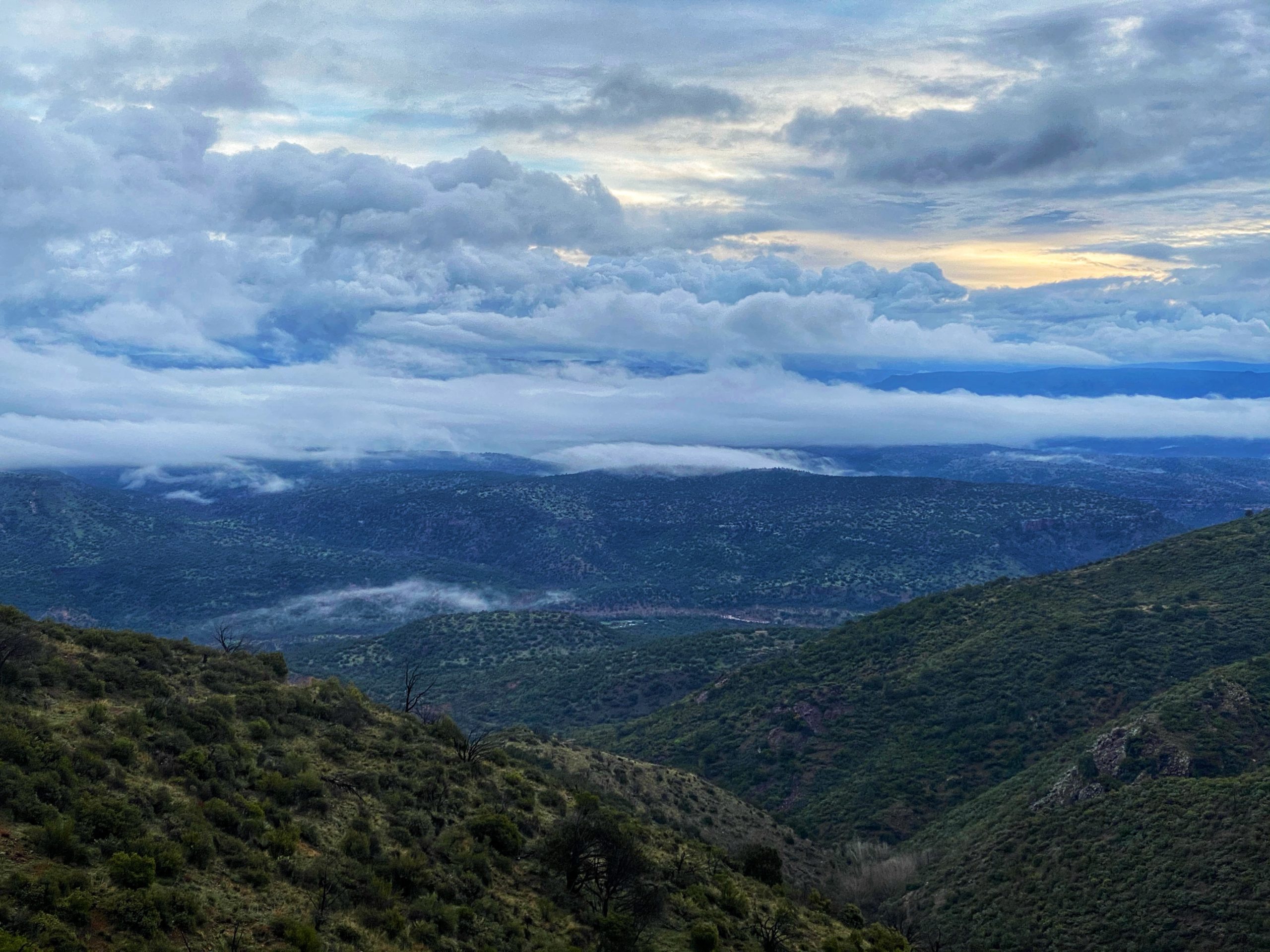 Six miles in, a friendly calf joined my hike, chewing on my snack pouch and head butting me when I slowed down to navigate mud and rocks.
She (I think she's a she) followed me to the East Verde River, where my heart sank in frustration. The trail crosses the river, and because of the last few days' rainfall, it was flowing far faster and higher than I had anticipated. Past year's hikers had noted that they were easily able to cross, with water maybe up to their knees in the deepest spot. This was not that river.
I walked up and down the river about a half mile in either direction and couldn't find an easy spot to cross. Rocks extended out about halfway between the places where the trail meets the river on both sides, so I figured I would try crossing there. I exchanged my rain pants for my already-wet-from-yesterday shorts, put anything with a battery in ziploc bags and started across. I made it halfway before I realized that I was going to be in serious danger if I continued. The water was up to my waist and the current was pulling too hard for me to keep moving my legs. The rain had also started again in earnest. I slowly made it back to the south shore and tried to figure out what the heck I was going to do. All of my gear was wet, and I didn't have enough food left to be able to hang out by the river for days.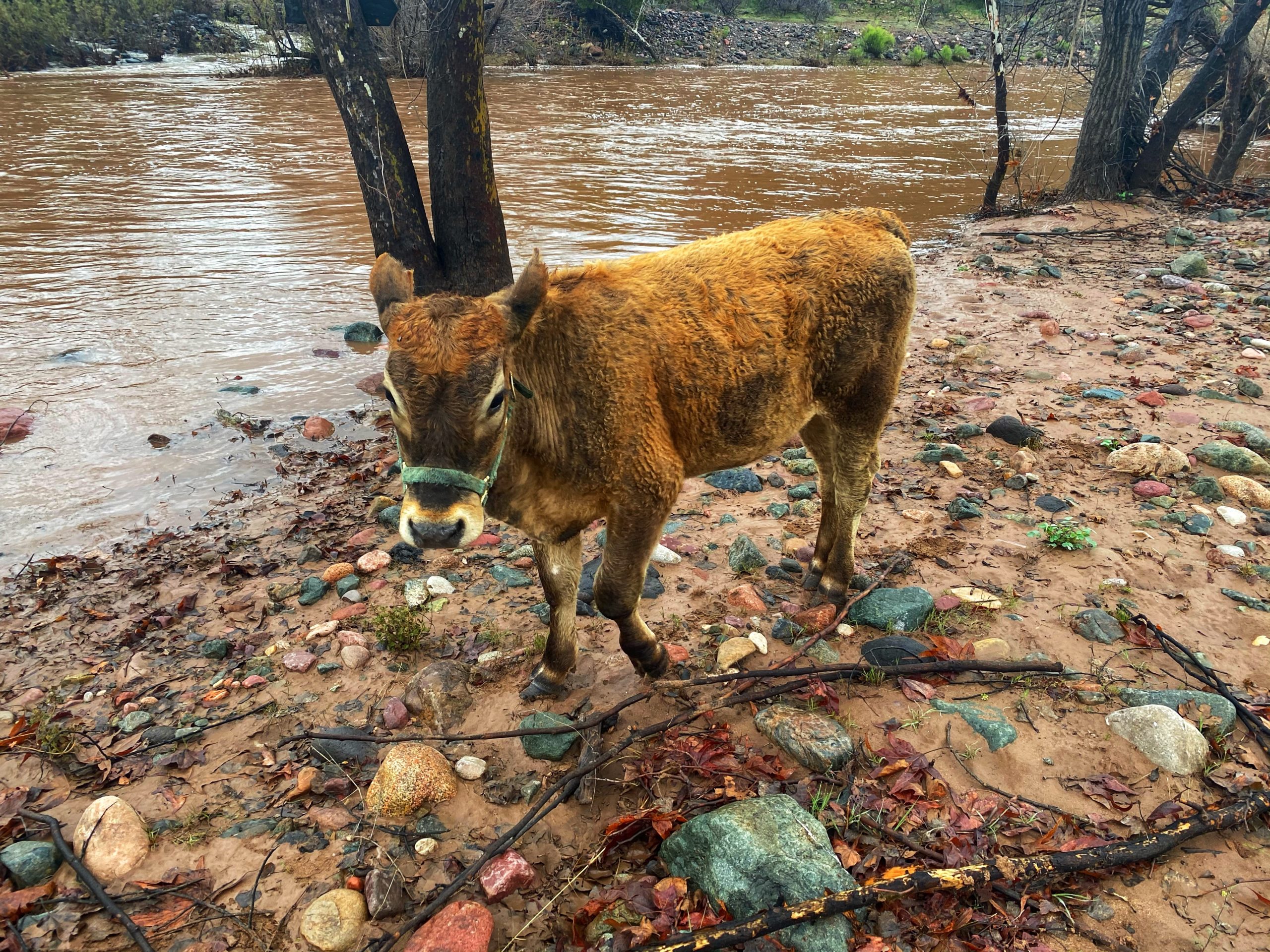 At the point where the friendly cow found me, there was a ranch – actually more a collection of buildings, barns, trailers and vehicles – so I headed that way to see if someone there might just let me dry out for a bit or, best case scenario, give me a ride to Pine. I let myself in through the gate and yelled hello for a while before someone heard me. A gal named Maryann came out and said she couldn't take me to Pine because the one road there was washed out, but she had a bunkhouse I could stay in while I waited for the river to go down, although she said that could take a few more days yet given the current forecast of a lot more rain. I wanted to cry in relief and from intense anxiety. As much as I know that setbacks like this happen, I didn't want to wait at a stranger's place while Mother Nature did her thing. I wanted to get to a spot where I did not have to walk all day in the cold and wet, where i could check in with my loved ones.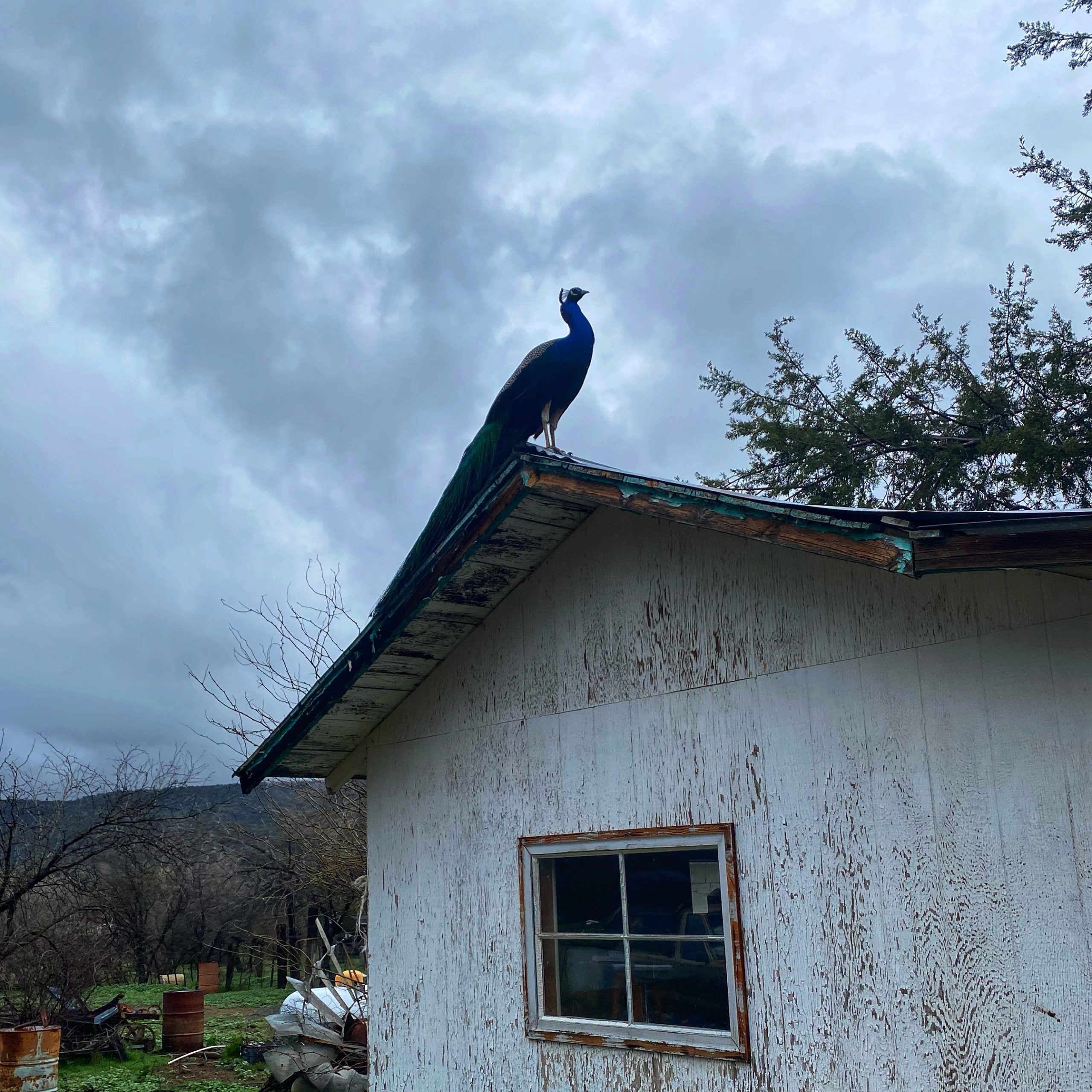 To counter my growing loneliness and feelings of inadequacy, I talked with Maryann for a while. She used to take in hikers regularly until a few years ago when she grew tired of the work of running a ranch and also what was essentially a hiker hostel. She has cattle, horses, dogs, cats and peacocks all running around a ranch that she maintains herself without electricity (except for certain operations powered by solar panels and car batteries) or cell service. She works all day, and told me, 'If you're going to have something, you better know how to fix it.' I couldn't help but think that I'm not nearly as self-sufficient as I think I am compared to people like Maryann.
As for that calf, her name is Noodle. She was orphaned when she was born, so Maryann raised her, bottle-feeding her and letting her sleep in the house with the dogs. She thinks she's one of the pack more so than one of the herd and she loves attention. She headbutts your legs and licks your pants until you bop her hard little head and give her a stern 'no.' If you don't shut the door, she will let herself into your bunkhouse and poop on the floor when your back is turned. And right now, she's laying on the porch waiting for me to come out and join her and the dogs in a game of fetch.
When it stops raining, I'll go.